About Us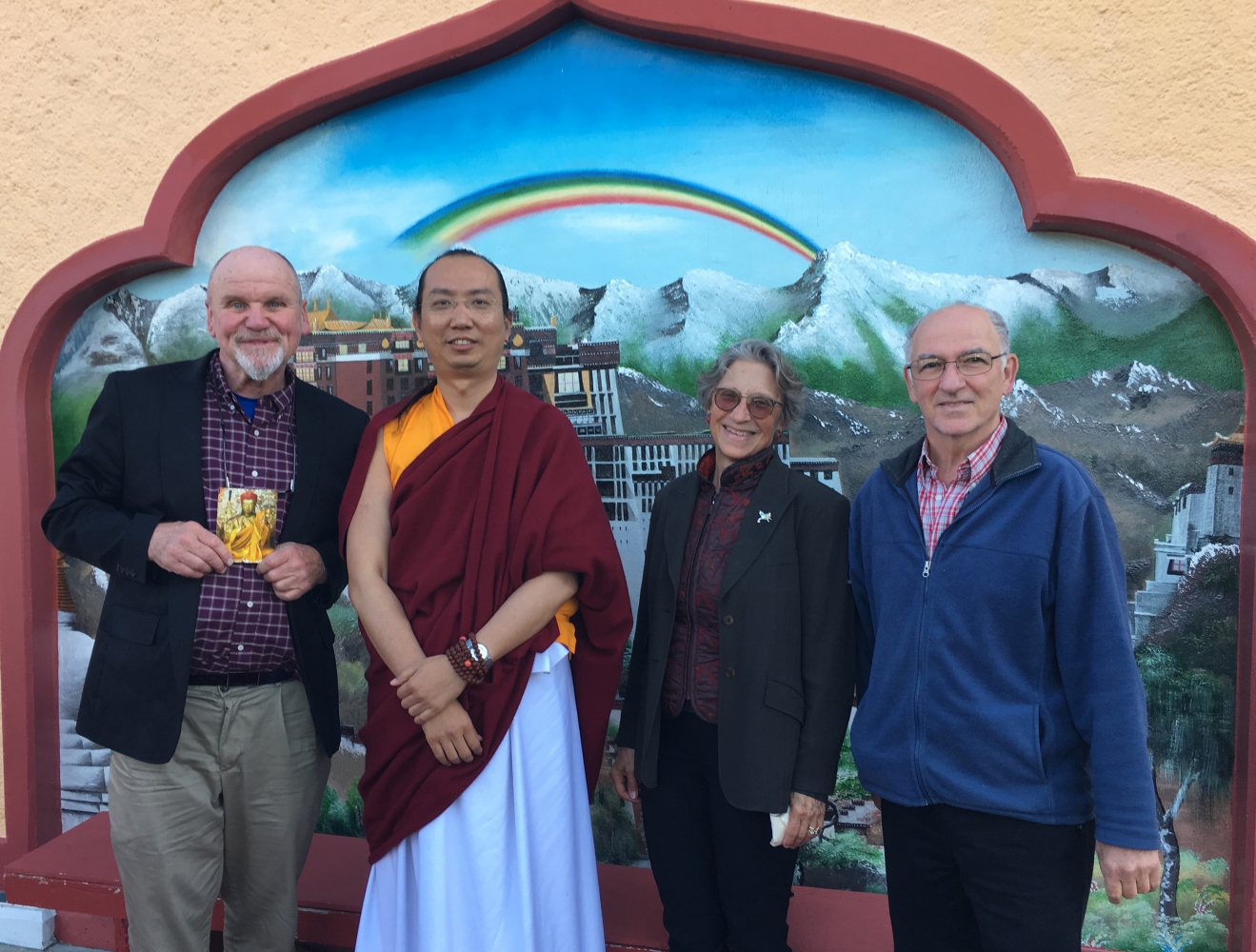 Mike Roche, HH the 42nd Sakya Trizin, Victoria Scott, and Jay Goldberg, May 2018
Michael Roche has a M.A. in Buddhist Studies from the University of Virginia, where he studied with Jeffrey Hopkins, and a M.S. in Psychology from California State University–East Bay. He did additional graduate work in Buddhist Studies at Yale University and the Graduate Theological Union. Mike spent 25 years as a school psychologist in California public schools.
In Dharma studies, Mike is a longtime student of His Holiness the 41st Sakya Trizin and other Sakya teachers. He has attended six Lamdre teachings as well as numerous other teachings, including the extensive Vajrayogini teachings three times. Mike was on the first board of directors of the Buddhist Peace Fellowship and is a board member of Ewam Choden Buddhist Center in Kensington, California. Mike formed the Sapan Fund in 1991, when Jared Rhoton left him and Victoria the English-language copyrights to his translations, then in manuscript form.

Victoria R. M. Scott has a M.A. in Buddhist Studies from Yale University. She has freelance edited since 1984, with an emphasis on the history, religion, art, and literature of Tibet, China, Japan, and Korea; she also edits for scholars whose work delves into the history of Europe, Africa, and other parts of the world.
A longtime student of Her Eminence Jetsun Kusho and His Holiness the 41st Sakya Trizin, Victoria has edited all the Sapan Fund's books to date (see Publications). She has also edited volumes published by the Library of Tibetan Classics, Dechen Ling Press, and Awakening Vajra Publications, as well as by Brill, Harvard, Stanford, and other academic presses. She edited Hermit of Go Cliffs (Wisdom, 2000), by Cyrus Stearns, and assisted with the publication of A Saint in Seattle: The Life of the Tibetan Mystic Dezhung Rinpoche (Wisdom, 2003), by David P. Jackson.

Jay Goldberg (Ngawang Samten) has a M.A. in Indian Religion and Philosophy from Banaras Hindu University. He lived in India and Southeast Asia for 18 years, 14 of which were spent as a monk in the Sakya tradition. During that time he studied under His Holiness the 41st Sakya Trizin as well as other great masters of the Sakya school. He assisted His Holiness and Khenpo Appey Rinpoche in the establishment of Sakya College and served as an interpreter for Chogye Rinpoche, Dezhung Rinpoche III, Khenpo Appey Rinpoche, Khenchen Luding Khen Rinpoche, the previous Tarig Rinpoche, Jetsun Chime Luding, and others. He established several Dharma centers in Asia, has taught at Dharma centers in both the East and West, and is the practice director of Sakya Dechen Ling in Albany, California.
Jay is a co-translator of Nagarjuna and Ngorchen Kunga Zangpo, The Discipline of the Novice Monk (Sakya College, 1975); Nagarjuna's Letter to King Gautamiputra (Motilal Baranidass, 1978); Ngorchen Konchog Lhunrub, The Beautiful Ornament of the The Three Visions (Golden Vase Publications, 1987, reprint Snow Lion, 2002); and Mipham, Mo: A Tibetan Divination System (Snow Lion, 1990). He has translated numerous meditation sadhanas and rituals, and, most recently, The Sutra of Recollecting the Three Jewels, Along with a Commentary by Khenchen Appey Rinpoche (International Buddhist Academy, 2014).